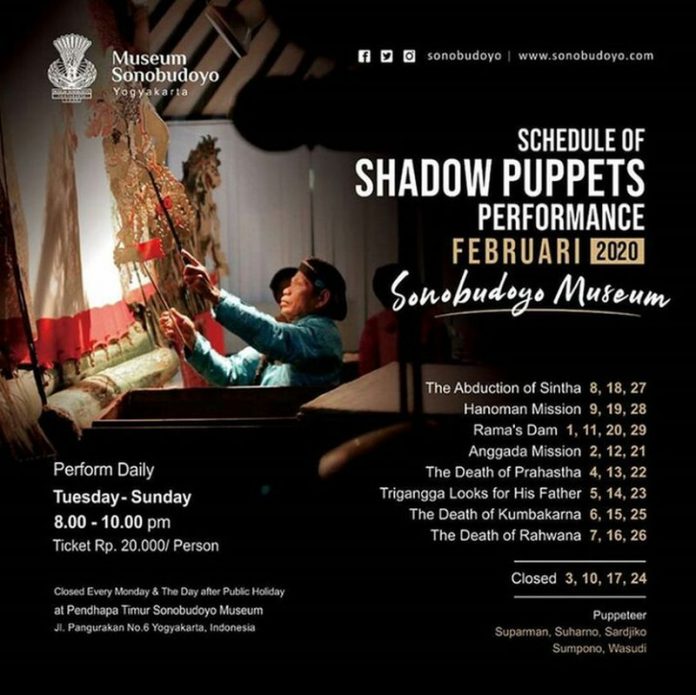 Hi Visiting Jogja Travel Mates!
Have you ever seen the shadow puppet show? Or maybe never seen that once in a life time ? So if you want to see it, we will be having  shadow puppet performance in Sonobudoyo Museum.
🗓 Tuesday – Sunday
⏰ 8 p.m. – 10 p.m.
📍  The Eastern Part of Pendopo of Sonobudoyo Museum Yogyakarta
💰 Rp. 20.000,00
So come on, who else could preserve Javanese culture other than us?
Best  regards to all museum lovers. Museum is always in our hearts.
–Schedule–
| | |
| --- | --- |
| The Abduction of Sintha | February 8th,18th, 27th |
| Hanoman Mission | February 9th, 19th, 28th |
| Rama's Dam | February  1st, 11th, 20th, 29th |
| Anggada Mission | February 2nd, 12th, 21st |
| The Death of Prahastha | February 4th, 13th, 22nd |
| Trigangga Looks for His Father | February 5th, 14th, 23th |
| The Death of Kumbakarna | February 6th, 15th, 25th |
| The Death of Rahwana | February 7th, 16th, 26th |