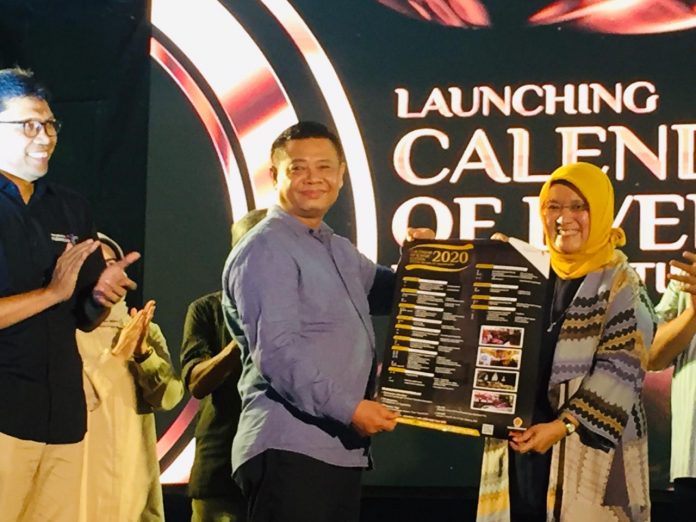 On Thursday, 01/23/2020, the Calendar of Event 2020, which is including 283 events in total, was sucessfully launched by Yogyakarta Tourism Authority. The event was taking place at Lintang Sewu, Mangunan Area.
Eventhough the area was heavily rained at the afternoon, once the event was going to start, the weather turned nice and starry. It gave a nice ambience and support towards the event. Not only the invited higher ups and medias that were coming, but also lot of residents who live around Mangunan Area.
The launching was attended by Ir.Rizki Handayani (Marketing Deputy of Ministri of Tourism and Creative Economy of Indonesia), Drs. Kadarmanto Aji Baskara (Yogyakarta Provincial Secretary), Singgih Raharjo, SH Med (Chief of Yogyakarta Tourism Authority), and all chiefs of regencies tourism authority. There was also present general managers of hotels and restaurants in Yogyakarta, tourism experts, and medias.
Nitik Siti Wangi dance became the opening of the launching, followed by a report presented by the chief of Yogyakarta Tourism Authority, and the speech by Drs. Kadarmanto Baskara Aji. On his speech, he empezised the strength of Yogyakarta as one of the prime tourism destination in Indonesia, in shich every single things in Yogyakarta could be an attraction for people to come.
Another speech was delivered by Ir. Rizki Handayani, who highlighting the fact that Yogyakarta has an abundance charm that attracts people to come.
Gejog Lesung prosession became the main point of the event, since it was marking that the Calendar of Event 2020 was officially launched. Followed by Calendar of Event 2020 video playback in which 11 categories of event, which are art and culture, exhibition, seminar, sport, competition, fashion, and education, were showed. Lot of unique and interesting performances were also presented. (san/aws)