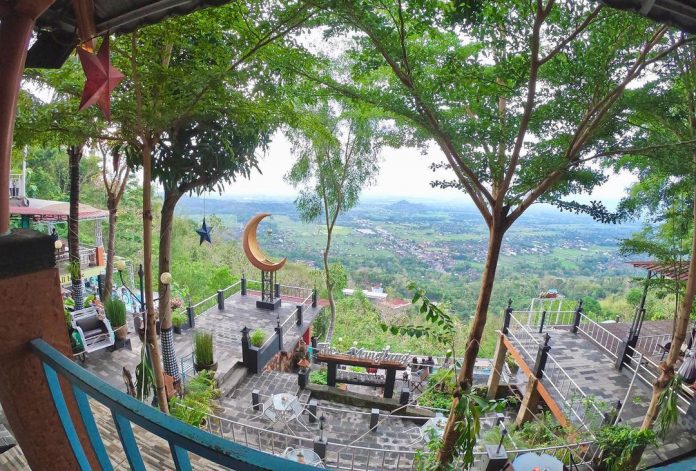 Being in a beautiful and cool place will definitely make you not want to move, even more so if you get to try a variety of delicious special dishes. If you're in Gunung Kidul Jogja, you must stop at this restaurant. It serves delicious and modern dishes. Even though this restaurant is a bit outside the city center, you won't regret stopping by.
The Building's Shape is Customized Based on Its Name
The restaurant's design, which is called The Manglung, reflects the meaning of its name, which is "protruding forward." The goal of this restaurant building is to show off the beautiful open natural scenery so that people who come can enjoy it.
The idea behind it is not just one thing, but a mix of traditional solid ideas and charming modern ones. This is clear from the fact that there is a fairly large Joglo building with furniture like tables, chairs, and elegant, modern lamps.
Location
Starting from downtown Jogja, it will take you about an hour to get to Jalan Ngoro-oro No.16, where the restaurant is. But if you land at Sucipto Airport and want to go straight to The Manglung Resto, it takes only about 30 minutes.
Operational hour
You don't have to wait for something special to happen before you can eat delicious food and look at the beautiful nature of Gunung Kidul. All of that can be done every day by going to The Manglung.
This is because this restaurant is open every day, even on weekends and holidays. If the store is open from 12:30 to 22:00 during the week, it will open an hour earlier on weekends and public holidays, from 11:00 to 22:00 WIB.
Interesting Spots
It's not surprising that this restaurant is also called Manglung Resto Bukit Bintang because it is close to the tourist area of Bukit Bintang. You can find some interesting spots at The Manglung restaurant that you can share on social media sites like Instagram, Facebook, or Twitter.
You might not be able to stop looking at the breathtaking scenery because of how exotic it is. You should come here in the afternoon or late at night for the best view. At that time, you can see how beautiful the light makes the view over the hill.
The atmosphere is great for hanging out with family, a partner, or a group of friends. Also, a live music show with the most popular songs will make this beautiful moment even more impressive.
Selfie enthusiasts will not be disappointed when they visit The Manglung Restaurant. In this hilly site, the two most popular areas for selfies are the huge crescent spot and the pedicab spot. You will only be charged Rp 20,000.00 for a single photoshoot.
Unquestionably, Followers' "love" comments on the photos will definitely make Instagram feeds go up. There is one more place that must be seen, that is the swimming pool. The only thing is that each person has to pay IDR 50,000.00 for a ticket to get in.
List of Favorites Menu
Culinary tourism at the Manglung restaurant can cause confusion on which dish to consume first. There are numerous popular menus that incorporate contemporary, traditional elements.
Some of the most popular items on the menu are:
– Side Dish : Traditional Western appetizers include spring rolls, fried telo, bakwan, corn bakwan, french fries, tropical salad, and chocolate cheese.
– Beverages : Hot drink servings range from wedang sekoteng, tea poci, ginger milk, wedang uwuh, orange juice, Vietnam Drip, and spirit punch.
– Family Package
– Romantic Dinner Packages
 The prices set for each menu are relatively affordable:
—  Snacks, starting from IDR 17,000.00 to IDR 25,000.00
– Food, from IDR 25,000.00 to IDR 6900.00
– Drinks, from IDR 7.000,00 to IDR 29.000,00
– Menu Package, from IDR 225,000.00 to IDR 315,000.00
So, are you ready to look for tasty food while looking for the best places to take pictures in Gunung Kidul, Jogja? Don't forget to stop by The Manglung Resto, which will make you not want to leave because of how beautiful it is and how good the food is.