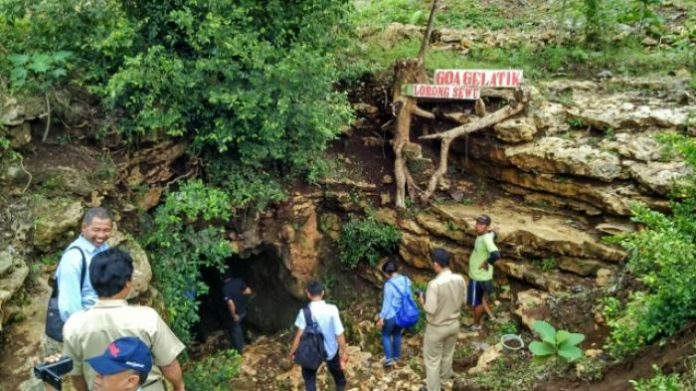 Get to Know Gelatik Lorong Sewu Cave, Seven Stacks Cave in Gunungkidul
A cave that was found by the people from Grogol II, Bejiharjo Village, Karangmojo Subdistrict, Gunungkidul, in 2014 ago, had not been able to operate optimally for tourism.
That cave which is not far from Pindul Cave is Gelatik Lorong Sewu Cave.
The Elder of the Gelatik Lorong Sewu Cave, Supardi explained that in the past there was a cave. After that when the people knew that the cave was in underground, they were curious and excavated in 2014.
"It took 4-5 months," he explained, Tuesday (04/10/2016).
Regarding to the selection of Gelatik Lorong Sewu Cave name, Supardi explained that there used to be many Wren Birds around the cave. After the people started to find a cave and traced it, it turned out that it had many aisles, which eventually called as a Gelatik Lorong Sewu Cave.
One of the Gelatik Lorong Sewu Cave guides, Marsono, he explained that in the cave there were various types of rocks and also traces of turbulence.
"On the most basic floor, we will find underground rivers and the habitat of Javanese Dragon Fish or Moa," he explained.
Regarding the access in the cave, Marsono explained that the level of difficulty was divided into moderate and very challenging because the cave has horizontal and vertical paths.
"We enter, inside there is a cave again and so on until 7 stacks so that we call it as the lorong sewu. Therefore, it needs a guide when going inside, "he added.
Meanwhile, only 350 meters have been explored by local residents. Not all of them have been revealed. Due to minimal air circulation, visitors are divided into one group containing 10-15 people, including guides. The duration of the trip in the cave till finish is 1.5 hours.
"In the past when the grand opening was quite crowded, per person was charged IDR 15,000. Currently, it has been vacuum because of the limited of human resources to organize this place and also the budget," he explained.
Representative of the Gunungkidul Regency Tourism Service Promotion Division, Supriyanta, he explained that Gelatik Lorong Sewu Cave is a dry cave, which in its tourism development cannot stand alone.
"For its development, we form the institution namely Pokdarwis (a group who love and protect tourism) and also make a visit package," he said.
Regarding the visit package, Supriyanta said that the cave tourism concept could be created, namely from Pindul Cave, Gelatik Lorong Sewu Cave, and other caves. In addition, the tour package can also involve MSMEs scattered around Gelatik Lorong Sewu Cave.
"In addition, since this is a tourist attraction of special interest, it must be considered safety and also certified guides, because it needs special treatment," he explained.