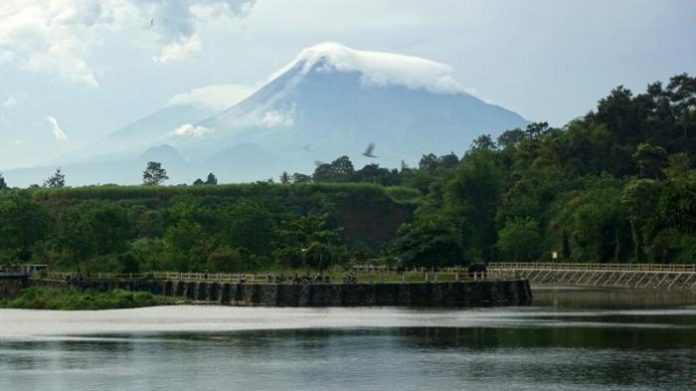 We often see a photo of a mountainous area that emits beauty with a bright blue colored sky. How lucky it would be if we could see it directly and capture it with the camera. To get the beauty we can come directly in a reservoir or embankment Tambakboyo which is on the north side of Yogyakarta area. Precisely in the Sleman regency located in three villages, namely Condongcatur, Maguwoharjo and Wedomartani.
The Development of Tambakboyo Retention Basin
The construction of Tambakboyo Retention Basin began in 2003 and was completed in 2008. This retention basin with an area of almost 8 hectares is capable of accommodating around 400,000 cubic meters of water that can drain a large area. The main planning of the construction is functioned as a green open space, groundwater recharge area and as a water reserve for residents in Bantul, Sleman and Yogyakarta. However in its development the function of the embung (retention basin) is also for a water tourism.
Around Tambakboyo retention basin is made a circular road with a considerable distance and designed neatly and functionally as a road inspection for the Public Works Office. In addition, there are also lodgings around the Embung (retention basin) which can be used to stay overnight if you are from outside the city.
Visiting to the Tambakboyo Retention Basin
The exact location for those of you who want to visit here is about 1 km to the north from north Ringroad and in front of the University of Pembangunan Nasional Veteran Yogyakarta. Transportation is also easy if you use two-wheeled or four-wheeled vehicles.