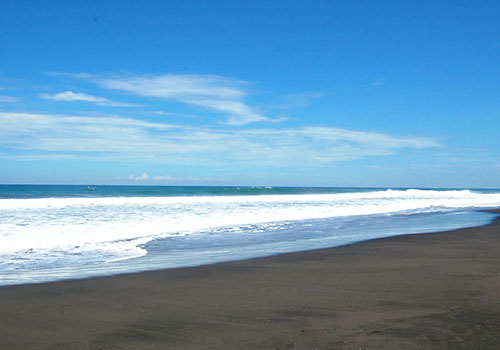 Congot Beach is located not far from Glagah Beach. The two beaches are very close and are connected by paved roads which are even quite easy to use by bicycle. Located in Jangkaran Village, Temon Sub-district, Kulon Progo Regency. This beach is the center of local residents activities who depend on fishing.
Fishermen's activities become a special charm for this beach. Along the coastline, visitors can see people activities and local tourists satisfying their hobby of fishing. In other places there are fishermen spreading the road on the beach, cleaning the boat and destroying the dinghy shells that are attached to the nets. The morning is the right time for visitors to see the crowds of fishermen with their daily activities. The roar of the ship's engine rushed to spread the nets to catch fish, and before noon returned carrying the catches that are taken to the fish auction place.
On the Congot Beach, visitors can enjoy the beautiful estuary of the Bogowonto River, along with the banks of the river downstream. From this estuary, Congot Beach has a variety of fish in a considerable amount. To visit there, you don't need to pay additional fees. A visit to the beach is included in the tourist ticket to Glagah Beach. The location of Congot Beach which is very close to Glagah Beach is certainly enough to be a reason to visit it. The amazing nuances of fishermen and fisheries make this beach still have specialties and cannot be equated with Glagah Beach.