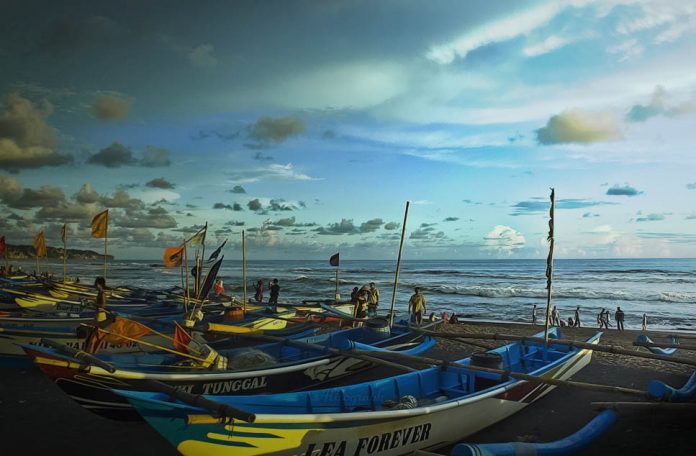 The crowd of Depok Beach began around 14 years ago, some fishermen from Cilacap found an adequate landing site in Depok Beach. The fishermen brought a lot of fish catches so they were able to inspire Depok Beach residents to switch professions from sand farmers to fishermen. With a motorized boat equipped with outriggers, local residents went to the sea throughout the year, except on certain days such as Kliwon Tuesday and Kliwon Friday. It was because still considered sacred. June-September was a fish famine day.
The distance that is not so far from the Parangtritis Beach (1.5 kilometers) Depok Beach area has increased visitors, then opened a seafood food stall with traditional nuances that designed the lesehan using small mats and tables. Although simple, food stalls look clean and cozy.
Various seafood dishes are ready to welcome the tourists, skipjack dishes are popular because of the affordable price with IDR 8,000 per kilogram. For the type of white and red snapper fish, the price ranges from IDR 17,000, – per kilogram – IDR 25,000 per kilogram. These fish species that are quite expensive are pomfret fish, which costs IDR 27,000 – up to IDR 60,000. Seafood dishes are usually cooked by being grilled or fried. If you want to order it, you can go to the fish auction place to order fish or other sea catches. After that, you will be accompanied by one of the food stalls on the beach by one of the residents. No need to worry about expensive prices, half a pound of skipjack plus drinks are only sold at IDR 22,000 including cooking services.
The beauty of the Depok Beach area does not good at serving seafood dishes, only. In this area, we can see the expanse of sand dunes that extend wide to the Parangkusumo and Parangtritis. Sand dune on this beach is the only one in the Southeast Asia region and is a rare phenomenon found in the tropics. In this place, you can enjoy a wide expanse of a sand dune. Sand Dune (Gumuk Pasir) on Depok Beach was formed through a unique process thousands of years ago.
There are several types of sand dunes, such as parabolic dune, longitudinal dune, comb dune, and barchan dune. Sea breezes and steep hills to the east, fly sand from Merapi activities that are deposited near the river to the land. It is forming sand dunes.
To enjoy seafood as well as a sand dune view, you can take the same route with Parangtritis from Yogyakarta. After arriving near the Parangtritis retribution post, you can turn right to the Depok Beach. The entrance fee to the Depok Beach is only IDR 4,000 for two people and one motorcycle. When driving a car, you will be charged IDR 5,000.00 plus individual fees.