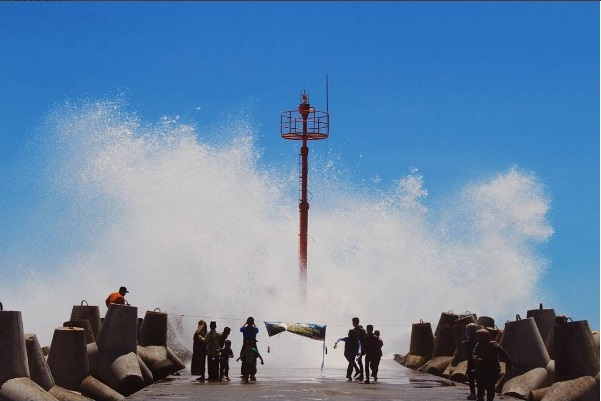 The sloping land contour is of particular value for the existence of Glagah Beach compared to other beaches in the Special Region of Yogyakarta. Long horizons bring together the sky and ocean when the eyes look forward. The winding shore spoils our eyes when changing the direction to the west or to the east. In this beach, they are spoiled with some of the locations with different ambiance even though they are still in one area. Each location provides a wonderful view that is not completely blocked by towering giant coral reefs.
The Glagah Beach area has a lagoon which divides into two locations. The first one is the location that is still overgrown by several coastal plants and grasses. The last one is sand dune which directly borders the ocean. You can cross to the location of the sand dune through a connecting road. That is located not far from the river mouth.
Various facilities have been provided on this beach. The motor cross area that is located on a large and wide beach, as well as a paved road connecting Glagah Beach with other beaches, can be used as a beach biking arena (cruiser bicycle). You can even enjoy coastal agro-tourism facilities by visiting the Kusumo Wanadri plantation. There, you can observe the cultivation process of various panaceas, such as dragon fruit and Roselle flowers. In addition, you can also rent the gethek (a small raft), canoes and duck paddle boats which can be used for tours along the lagoon or just crossing over a wooden bridge to the location of a sand dune on the beach.
The trip to this beach is not as difficult as the trip to the beach in Gunung Kidul. The roads tend to be flat and not much uphill, so you can take it while relaxing. The route to Purworejo that also connects Glagah Beach with other beaches in the Kulon Progo Regency. Therefore, drinking water while diving, you can visit other beaches afterward.