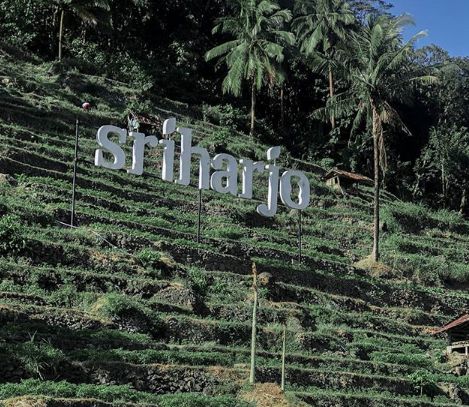 A tourism destination in the form of river activity that provides an extraordinary sensation in Bantul Regency is located in Sriharjo Village, Imogiri, in the Oya River valley flanked by green karst hills. The flow of the Oya River stretches 106 kilometers upstream in Gunung Kidul and ends at the southern coast of Java.
Access to Sriharjo Tourism Village can be reached from Jogja through Imogiri – Siluk street then follow the direction to the suspension bridge. The route to the location could challenge your adrenaline, perfect for adventurous, cyclists and trail bike crossers.
The Tourism Development Group (Pokdarwis) of Sriharjo Tourism Village, has many interesting locations that should be visited, including Sri Keminut, Ngirli Indah Park, Sorory Valley, Pengkol Tourism Village, Kedhungasri and Ngepohsari. Each Development Group (Pokdarwis) location's offers different tourist offerings.
Terracing area
There are three main tourist destinations here. There are Sriharjo Hill, Ngepohsari, and Padusan Banyu Bening. In the Terracing Area, tourists can take pictures in the green rice field area with the sign Sriharjo surrounded by shady trees. Not only that, there are also Techno Eco Park activities for visitors who want to learn about farming with modern techniques.
Water Bike
Visitors can do cycling in the water, swim and play water over the shallow and rocky of Oya river at Ngepohsari and Padusan Banyu Bening.
In this tourist spot, there is also a water play area for children that is will safe so that visitors don't have to worry about having a vacation with their little ones and family.
In addition to the tour activities mention before, visitors can also enjoy beautiful scenery and breathe in the fresh air full of the oxygen, and don't forget about to take picture in here.