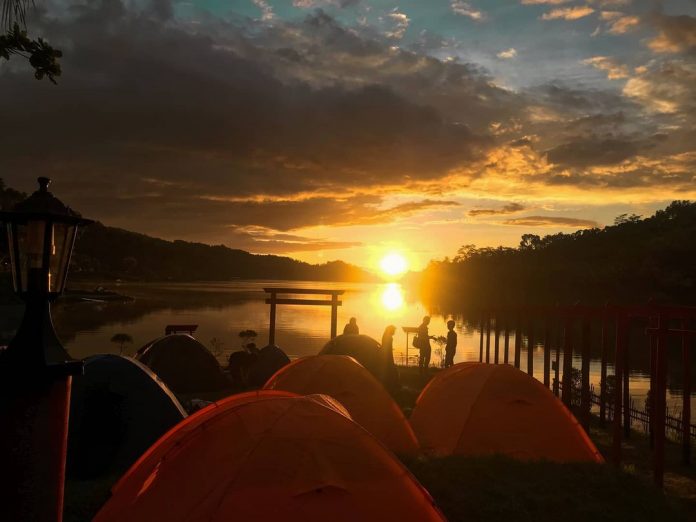 Camping is a fun thing that many young people do. Camping is a great way to spend time with friends and get to know them better. There are also many other things to do while camping.
How well the camping activity works also depends on where it takes place. Sermo Reservoir Camping is where you can stay if you want to go camping in Yogyakarta. You can camp there on the weekends, holidays, or weekdays.
Sermo reservoir Camping Location
This place is both a tourist attraction and a place to camp. It is in Kulon Progo, Yogyakarta. So getting to this place isn't hard because the roads are clean and easy for all kinds of vehicles to drive on. You should use your own vehicle because no public transportation will get you there directly.
Since it is close to the reservoir, the land and scenery are pretty stable. It's good for outdoor activities that need a lot of space and few obstacles. You can go camping here by yourself, with friends, or your family.
Advantages of Camping Sermo Reservoir
Compared to the other camping spots in Jogja, this one is the best. This statement isn't for nothing. Many things make this tourist spot better than others, such as:
Tourist Spots as well as Camping Areas
Camping Sermo Reservoir is an excellent place to go if you want to camp and enjoy the outdoors. Not only does it have a big area where you can set up a tent and do other things, but you can also enjoy the natural beauty that is all around it.
Beautiful view
Sermo Reservoir has beautiful views, so it's a good place to go if you want to get away from the stress of the city for a while. When you get to this tourist spot, a land of green grass will greet you so you can enjoy the natural beauty immediately.
The Sermo Reservoir is more than just a land of grass. You can see how it works and how it benefits the people in the area. The water in the reservoir is also easier to get to because there are water faucets nearby.
Watching the Sunrise
If you want to see the sunrise, a place in the Sermo reservoir that is open and not too crowded can be helpful. When you wake up in the morning after camping all day and sleeping, you will see the sun rising in the east. This is the view that people camp at this tourist spot often looks for.
Take a Closer Look at Resident Activities
Sermo Reservoir at the Sermo Reservoir Camping site is still working. The community also uses the water for many different things. So don't be surprised if you see people fishing or doing other items on the edges of the reservoir when you visit this tourist spot.
Also, many people in the area come here to relax because the air is clean and there is a light breeze. The people who live there are also very friendly to tourists who come to camp or just look at the scenery.
All the facilities and information about Sermo Reservoir
Those of you who are interested in visiting this campground and tourist attraction should be aware of the following rental and set fees:
Tent Rental Cost
For 50 thousand rupiahs, you can rent a tent for one night if you want to go camping. It can hold up to four people, so it's good for groups. If you're not happy, you can also rent a mattress from the manager.
Camping Cost
Camping only costs 10,000 rupiahs per night for one person. The price isn't too high because there are a lot of amenities that can all be used at once.
In addition to the two costs listed above, visitors to the Sermo reservoir camping must also pay a parking fee. Depending on the type of vehicle, the price for parking is quite reasonable.