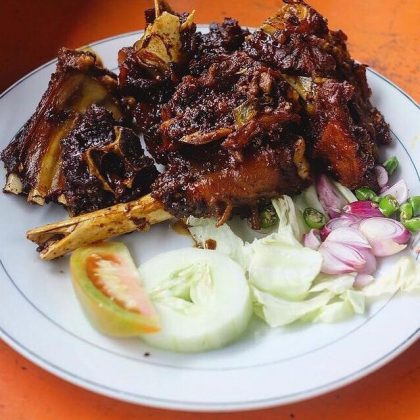 Malioboro, Borobudur Temple, Prambanan Temple, you may have been to these tourist spots once or more than once. Then how about this typical Tengkleng of Jogja? Have you tried any of these places that are known for their food? If you haven't tried this one food, you haven't really lived.
Tengkleng is usually a type of soup that has goat bones as the main ingredient. People say that only the Dutch and the Noble could eat mutton dishes in the past. So that only the goat's bones, head, and legs are left. But the cooks and workers at the time didn't lose their minds. They cooked the bones of the goat, which is now called Tengkleng.
Then how about Tengkleng, which looks like elephant meat? The name "Tengkleng gajah jogja or elephant tengkleng jogja" comes from this dish's large amount of mutton. The only difference between Tengkleng and Mutton Curry is that the broth on Tengkleng is thinner.
This dish is typical of Solo. It is made from offal, meat, and goat bones in a watery soup with spices to give it a unique flavor. When it first opened in 2006, this Tengkleng stall only sold different kinds of processed mutton Tengkleng. These included tengkleng with onion sauce, fried tengkleng, tengkleng in tongseng, and tengkleng in curry sauce.
But the elephant or large version of Tengkleng is becoming more and more popular. This stall is also known for the quality of its other menus, which include fried rice, curry, coconut Tongseng (Tongseng is a type of Javanese stew made with aromatic spices), beef curry, meat Tongseng, and even a fried satay menu. It has at least 11 menus. This fried satay, typical of the Tengkleng Gajah food stall, tastes excellent and has spices that get right into the meat.
If you want to eat this super jumbo food, you can go to Jl. Kaliurang KM. 9.3, which is in Bulurejo Hamlet, Minomartani, Ngaglik, Sleman, to be exact. Even though this food stand is in a village, it is effortless to get to, so many culinary lovers come to check it out.
One serving of elephant tengkleng/Tengkleng Gajah, satay, or tongseng costs about Rp. 47,000. Even though it's a bit pricey, this price gets you a super large or jumbo portion that you can enjoy later. When it comes to white rice, you can bring your own and eat as much as you want for Rp. 8,000. As for the drinks, you can get orange ice, tea ice, juices, and other drinks for Rp. 8,000.
This eatery has an open concept, so when you walk into the food stall, you'll see an open kitchen and be able to watch the tengkleng being made. This place can also fit more people because the tables are set up in a long line.
When the food is brought out, you can smell how strong the smell is, and you can still see a puff of hot steam. The meat is still on the bone and is quite big. The gravy is also quite thick and has a unique flavor that is not too sharp. Sliced chilies and vegetables give this dish more flavor and make it more enjoyable to eat.
For those who like sweet flavors, Soy sauce-predominant fried tengkleng could be the best option for you. To enjoy the distinctive flavor of this Jogja cuisine, you must be aware of this stall's hours of operation. This Jogja tengkleng stand is open every day from 09:00 to 21:10:00 WIB.
You can, however, arrive early to avoid missing out on this elephant or big tengkleng cuisine, particularly during weekends and holidays.