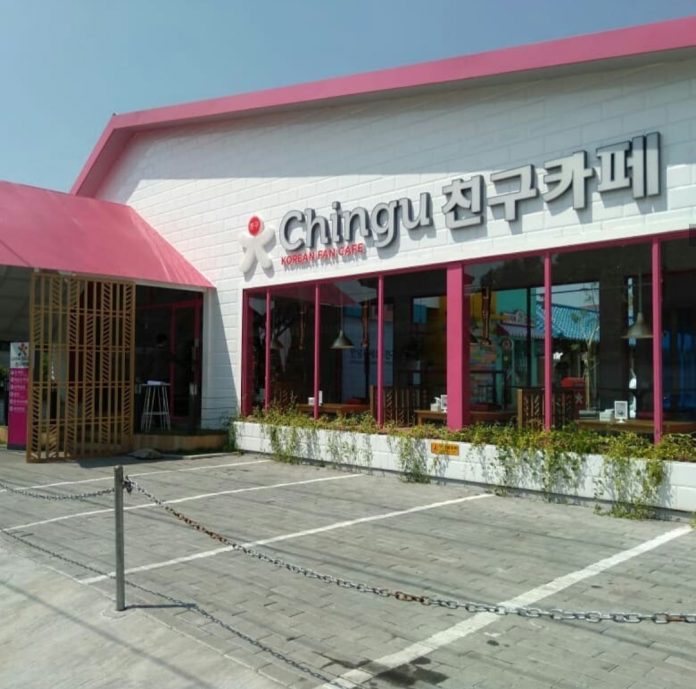 Now you don't need to go to Korea so that you can feel Seoul atmosphere. And you are Korean Lovers, especially, you must have a dream to visit there, Chingu Cafe, presenting uniquely photo spot likely in Korea, which is located in Yogyakarta. This cafe takes the collaboration between the villages and the city nuance of Korea.
At least, there are 4 themes applied in this cafe. First area is Seoul imitating the restaurant in the city of Seoul with Dongdaemun Street replica. Nevertheless, it provides 'lesehan' theme.
Second area, Chongdamdoung : like, in the Gangnam District, where it is well-known as shoping center. In this area, there is such a pool that looks like a river through that area. This is the most favorite spot for the guest/visitor to take a picture.
Third area, would be Bukcheon Village, it illustrates the rural atmosphere same as in the Seoul , the visitor may enjoy 'lesehan'.
The last spot area it's Hongdae. It's private room that proposes to VIP guest who want to enjoy this cafe privately. In here the visitors are allowed to rent a hanbok, traditional korean cloth, it charges Rp.30.000 per 15 mins.
Menu price in this cafe around Rp.20K – Rp.160K. It opens from 11PM– 12AM, for  Friday Start from 12.30 PM. The location in Jl. Pandega Karya #18, Jl. Kaliurang km 5,6 Manggung, Catur Tunggal, Depok, Sleman. It only takes 15 mins from Malioboro. (san/yud)