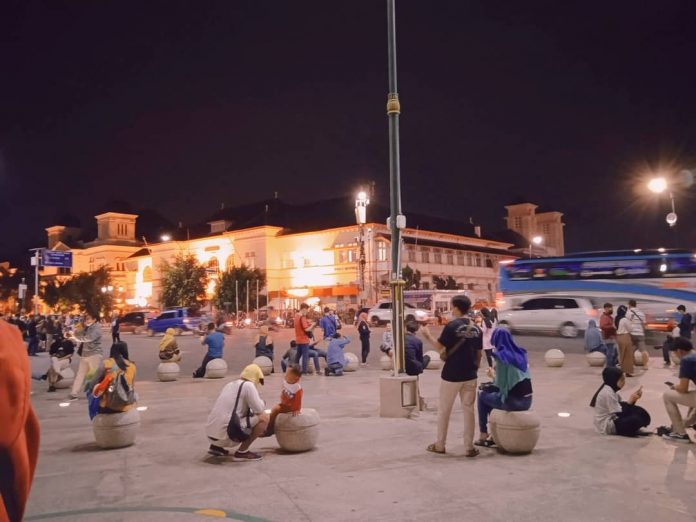 This city's name seems to be familiar to many people who go on vacation. Yogyakarta is known as a city that makes tourists want to stay and enjoy the atmosphere for a long time in this one city.
Even though it doesn't deny that modernization has happened, the city of Jogja still has a lot of local knowledge that is interesting. When you visit Jogja, you can enjoy and learn about different Javanese cultures that are still alive and well in the present day.
Besides, Jogja's cultural nuances are still quite springy, and there are several charming tourist attractions to see. Indeed, Titik Nol KM night tourism area (the Zero point km) in the heart of Jogja is one of the most popular destinations.
This area is, as the name suggests, the city's center or zero point km. This location is at the southern end of Jalan Malioboro, or more precisely in the intersection area of Yogyakarta City's Great Post Office.
As an iconic part of the city of Jogja, the zero point km has always been a unique attraction for tourists. At night, this tourist attraction will be packed. Numerous travellers spend time in this location solely to experience the serenity of Jogja's charming city.
As one of the most popular hangout spots in Jogja, it's unsurprising that this area is frequently crowded with domestic and international visitors. There are many exciting things to see and get in this area, including street food, street performers, and other activities that will make your trip to Jogja even more memorable.
What's Interesting in Titik Nol KM Night Tour Area and Its Surroundings ?
To tell you the truth, the 0 km area of Jogja is actually part of Malioboro street, and it's not separate. Travellers exploring the Jalan Malioboro area often stop at the zero point km at the southern end of Jalan Malioboro as a place to rest and recharge.
There are many other tourist attractions in the vicinity of 0 km Jogja Night Tour that are equally as interesting to visit. Several of them include the following:
Yogyakarta Palace Area
Yogyakarta Palace is the cultural center in the city of Jogja, and it has a lot of interesting things to look at. When the Yogyakarta Palace was built, it became both the home and the kingdom of the royal family of Jogja, also known as the Sri Sultan family, who lived there. Keraton Jogja is not only a royal palace, but it is also open to tourists at certain times of the day.
Location: The Palace of Yogyakarta is not too far from 0 km, where there are no more miles to go. Geographically, the Keraton area is south of the zero point km. Only about 500 meters to the south will get you there.
The Yogyakarta Palace area, one of the city's cultural attractions, is open to tourists daily from 08.30 to 12.30 WIB. Keraton Jogja, particularly on Fridays and Saturdays, closes early at 11.00 WIB.
Fort Vredeburg Area
Besides enjoying the night tourist area at Zero km, Fort Vredeburg can be an extremely interesting tourist destination. Except for being accessible during the day, the Vredeburg Fort area is also an interesting tourist destination at night.
Fort Vredeburg, located near the zero point km, is both a museum and an attractive tourist attraction. Since these two tourist attractions truly coincide, Fort Vredeburg is located very close to the zero point km.
Jalan Malioboro Area
Another exciting tourist attraction near 0 km is Jalan Malioboro (Malioboro Street). This tourist area is quite well-known among travelers due to the charming panorama at night. This area, which serves as the heart of Jogja, provides a variety of impressive tourism options, ranging from shopping, culinary, and souvenir centers to offerings by street performers.
That concludes our review of the Titik Nol km Jogja night tour and several other interesting tourist destinations located near Jogja's zero point kilometers. After reading the reviews above, there is no longer any reason to be confused or worried about picking a fun place to visit while in Jogja.