Have you heard about the visit of former US President Barack Obama to Yogyakarta? Mr. President took the time in Yogyakarta to go on a culinary tour. The Bumi Langit Institute in Bantul was one of the restaurants Obama visited. The address of this restaurant is Jalan Imogiri Mangunan KM 3, Giriloyo Village, Wukirsari, Imogiri, Bantul. The journey from Jogja to the south takes approximately 35 minutes. You should use a private vehicle or rent one to get here because public transportation is difficult to find from downtown Jogja. This location is open from Tuesday to Sunday from 9 a.m. to 4 p.m. WIB.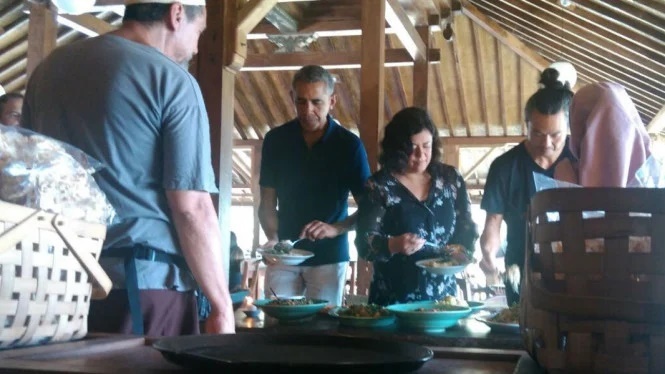 Bringing the Concept of Healthy Organic Food
It is called the Bumi Langit Institute because, besides being a restaurant, Bumi Langit also manages other nature-related activities. You can see firsthand how food is processed from the time you pick up the ingredients to the time you eat it. This restaurant not only emphasizes the deliciousness of the menu, but it also carries the organic and healthy concept. The ingredients for their meals are sourced directly from the Bumi Langit garden. Excluding having its own garden, Bumi Langit Institute has its garden, a fish pond, and a special cattle farm. That is why Mr. President Obama wanted to visit Bumi Langit; they had heard about it since they were in America and finally stopped by when they visited Indonesia.
Family-Friendly
When you arrive, you will be greeted by breathtaking natural scenery. This restaurant is built in the shape of a traditional Javanese joglo pendogo, which is open on all sides and keeps the atmosphere cool when exposed to the breeze. Following the traditional joglo concept, the tables and chairs have an old-school concept made of rare wood and rattan, intensifying the Javanese atmosphere of serenity. This restaurant is ideal for making a reference point for family gatherings. If you want to bring your family, make a reservation in advance because Bumi Langit is never empty of visitors, especially during the holiday season.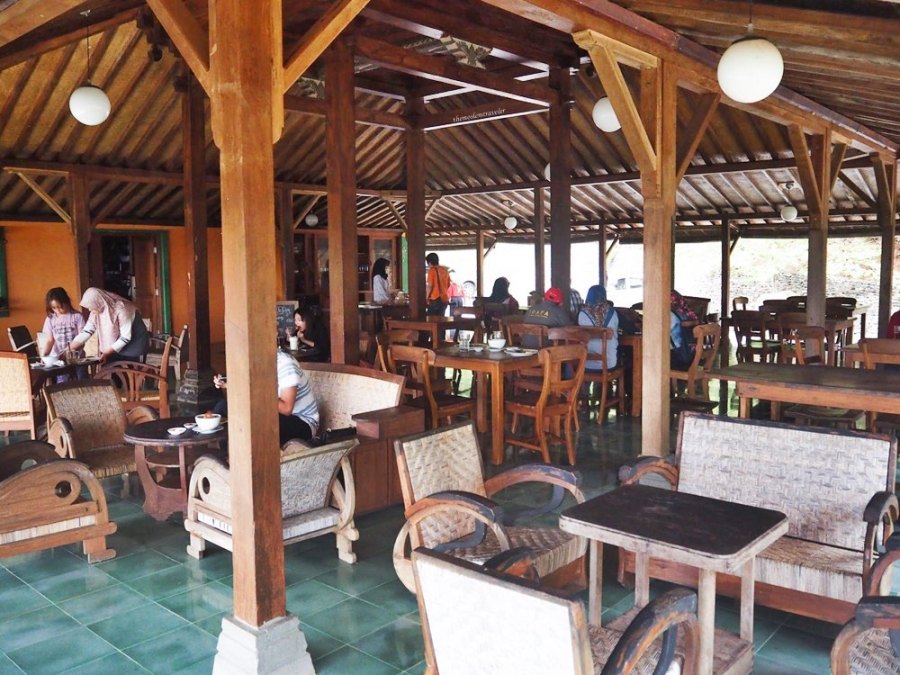 Healthy and Tempting Menu.
The menu is very healthy and guaranteed to be chemical-free. Mie Lethek (lethek noodles) is the most well-known menu. These noodles are made from tapioca flour, which gives them a duller appearance than wheat noodles. That is why the Javanese refer to it as Mie lethek or Mie Kotor (dirty noodles). But don't be discouraged; this noodle flavor can be compared to other types of noodles. At Bumi Langit, Mie lethek is manufactured and processed without preservatives. This noodle is so well-known that it has become one of President Obama's favorite dishes. Mixed rice, fried rice, fried fish, fried chicken, various vegetables, and side dishes such as fried tofu, tempeh garit, and fried eggs are also available. One of the menu items you should not miss is the sweet and vitamin-rich snack of organic sliced bread with homemade fruit jam.
For drinks, Kefir and Kombucha are two well-known beverages. Kefir is a fermented milk drink with a similar texture to yogurt but a distinct flavor. You can order a special variant of kefir with natural fruit jam or real honey added. Kombucha, meantime, is a fermented tea. The flavor is distinct and unmistakably healthy, as it is free of artificial sweeteners. These two drinks are required menu items when visiting Bumi Langit.
Loyal Price
The food served here is priced at IDR 20,000 per portion. The prices are reasonable and in line with the delectability of the menu, especially given how difficult it is in modern times to find restaurants with traditional and healthy concepts like Bumi Langit Institute. So, if the President of America has visited, when will it be your turn?